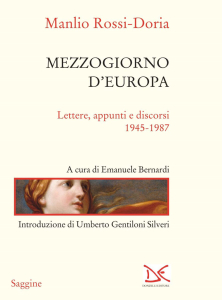 Book Presentation:
Mezzogiorno d'Europa. Lettere, appunti e discorsi. 1945-1987.
by Manlio Rossi-Doria
Introduction by Umberto Gentiloni Silveri
Edited by Emanuele Bernardi
Donzelli Editore, 2014
Discussants:
Leandra D'Antone, Sapienza University of Rome
Fabrizio De Filippis, Roma Tre University
Francesco Erbani, La Repubblica
Guido Fabiani, Manlio Rossi-Doria Centre
Sandro Rogari, University of Florence
Chair:
Anna Carbone, Tuscia University
INVITATION
PAGE OF EVENT
Monday 4 May 2015 – h. 16.00
Roma
Biblioteca del Senato "Giovanni Spadolini"
Sala degli Atti parlamentari
Piazza della Minerva, 38
Formal dress (suit and tie) required for men.