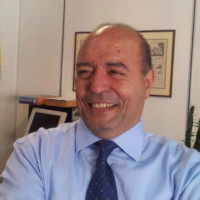 With deep sadness we announce the sudden death of our friend and colleague Prof. Giovanni Anania on Wednesday, July 15th.
Giovanni Anania was Full Professor at the University of Calabria (Italy) and President of the European Association of Agricultural Economists (EAEE).
His scientific commitment was directly inspired to the scientific, political and cultural heritage of Manlio Rossi-Doria since he earned a post-graduate diploma from the Portici Center. He was then one of the most active promoters and one of the founders of the Associazione per studi e ricerche Manlio Rossi-Doria. He was member of the Manlio Rossi-Doria Centre for Economic and Social Research from the beginning of our activities. We are committed to remember Giovanni's scientific achievements and we are presently working on different activities and events to this end.
In memoriam
Dipartimento Economia, Statistica e Finanza – Università della Calabria
European Association of Agricultural Economists (EAEE)
Associazione Italiana di Economia Agraria e Applicata (AIEAA)
Biography
CV
Giovanni Anania's page at University of Calabria